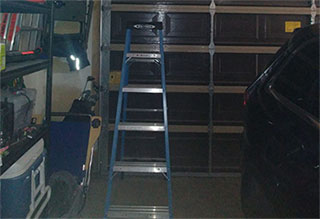 The stress that your automatic system endures on a daily basis is very significant, and it's no wonder that after a while its different parts begin to break down. The wear and tear that the mechanism goes through is the reason why springs break prematurely and why problems like a door that gets off track suddenly occur. With the right maintenance service, you'll be able to prevent most issues and increase the working longevity of your door very significantly.
When a Spring Breaks
Although these hardworking parts are dangerous enough on their own, when they break the rest of the system also suffers collateral damage. The panels often slam to the ground as a result, which also causes the rollers and the tracks to get damaged in the process, not to mention, the lift cables. During each maintenance visit, our experts will test the balance of your door, and adjust the springs accordingly, so as to alleviate as much of their stress as possible, which will extend their lifespan by quite a lot.
Minor Track Repair
While we service your door, we will examine the condition of the tracks and look for tiny dents and bent sections that can be fixed on the spot. If we find evidence of more significant damage, we will alert you right away, and explain the steps that need to be taken, and if replacement is required. We will also lubricate the moving metal parts, such as the hinges and the rollers, to promote a smoother and quieterpanel movement.
The Important Safety Features
Your automatic garage door opener has a few mechanisms that ensure that it will not close the door while there's something blocking its path. Our team will make sure the alignment of the photo eye sensors is exact, so they'll be able to visually detect an obstacle. We will also test the functionality of the auto-reverse feature, which ensures the door reverses when it encounters resistance. If any of these need to be adjusted, we will do so on the spot, thus making sure your opener is safe for you and your family to use.
We're At Your Service
Give our experts at Garage Door Repair Redlands a call today and schedule a professional maintenance appointment that will leave your door in the best shape it can be.
Want more? Let us take care of:

Bottom Seal Rubber

Screw Drive Opener Replacement

Garage Door Extension Spring Installation

Torsion & Extension Spring Adjustment