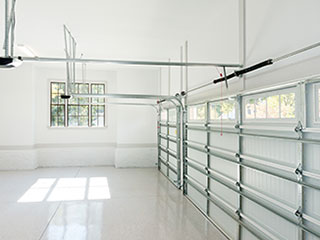 A new garage door opener can be a great investment, but many homeowners have a lot of questions when it comes to shopping for one. How strong should it be? Which features will I need, and what drive type is right for me? We've helped dozens of homeowners pick out the perfect opener for their garage door systems, and we want to pass on a few tips for choosing a new unit for your home.
How Strong Should It Be?

A heavier door will need a stronger opener to lift it. There are two factors that contribute to a door's weight; its size, and the material it's made from. Typically plastic doors are the lightest, then aluminum, steel, and finally wooden doors. In most cases, a ½ horsepower motor is sufficient - this should be enough to lift 300 pounds reasonably easily, which is about the weight of a double-width steel door. Bear in mind that if you buy an opener that's more powerful than you really need, it will be able to open your door more quickly. It'll take more time to wear out, since it isn't working as hard.

Which Drive Should I Choose?

Openers come in 3 distinct categories, depending on the type of drive they use. If you want a quiet, smoother opener, then check out belt drives - they use a rubber or fiberglass belt to keep the door moving, which helps to cut down on noise. Alternatively, if price is your main concern, think about a chain drive. These classic designs are tough and cheap, and ideally suited for garages that see occasional use. Finally, screw drive units require very little maintenance, and are a great option for the reluctant DIYer.

How Secure Is The System?

Modern openers incorporate a wide range of security features. These range from automatic security lights and cameras to Wi-Fi integration and rolling code technology. Your opener can genuinely become part of a connected home; many new units from Chamberlain and Windsor can connect to digital assistants like Alexa or Google Home. You can use them to keep track of your door – when it's opened and closed, and even sync up surveillance cameras to keep an eye on your property.
Further questions? Simply contact our expert team at Garage Door Repair Redlands for advice – we're here to help!