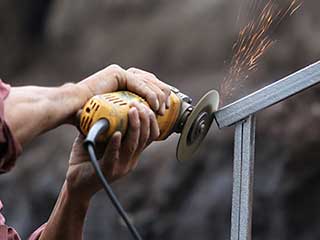 Our team is at your service for any gate-related need, from troubleshooting to urgent repairs. Each and every part of your gate is highly prone to damage (rusting, being the main cause) due to external elements like water and dust. In our years of experience, we have noticed that there are a few common causes of gate malfunctions, as listed below. Let us know if you have any of these or others – we'll be there to fix it for you in no time.
Gate Isn't Closing
In such a case, the safety loop installation of the gate opener needs to be checked. More common in sliding gates, this can be corrected by adjusting the safety infrared beam or any other safety feature that the gate is using. This issue can also be attributed to misalignment, which is making the gate vibrate and thereby not trigger the safety feature. A complete overhaul and maintenance will be required to ensure that gate is in good and safe working condition.
Static Noise in the Gate Intercom
This is one of the most common symptoms of intercom damage. While it functions properly, the speakers also produce static noise due to the increased proximity between wires and other metallic parts. Although this shows that the intercom is nearing its expiry, it can still be repaired and used for a couple more years.
Chain Stuck in the Opener
If you own a chain-operated sliding gate then this is a common issue. The chain, due to rust or a presence of foreign particles like small rocks, can get stuck in the bracket or the opener. This can render the gate useless, and in some cases, can even lead to damage of the opener and/or chain. If that happens, they must be immediately replaced.
If you are experiencing any one of these problems, you can call us. Our team is familiar with brands such as Ramset, Elite, DKS, and Liftmaster to name a few. Contact us at Garage Door Repair Redlands,now!
Count on us when it comes to:

Driveway Gate Repair

Parking Garage Gates

Gate Opener Service

Doorking Gate Intercoms